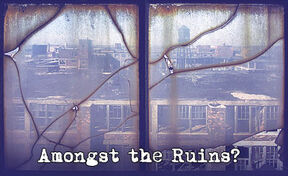 Welcome to the Amongst the Ruins Wiki
What would you do to survive? What would you sacrifice to make it to another night, what about to thrive? Welcome to Detroit, America's fastest decaying city, abandoned by most law enforcement and lodestone to the Supernatural. This is not a city that is in a ceasefire, this is not a city that is peaceful. Mortals and Supernatural lives are cut short nightly, but do you have what it takes to survive Amongst the Ruins?
Important Pages
General
The City
The Characters
The Splats
Changeling
Mage
Mortal
note: the Mortal history is the same as the General City History.
Werewolf
Vampire
Latest activity